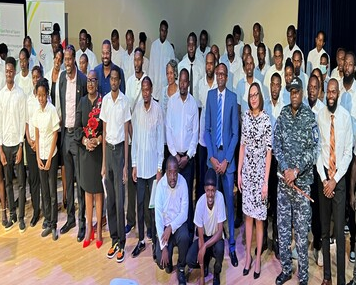 130 east Port-of-Spain youth enroll in MHUD Construction Skills Training Programme
On Wednesday, May 17, 2023, the Honourable Camille Robinson-Regis, Minister of Housing
and Urban Development, the Honourable Adrian Leonce, Minister in the Ministry of
Housing and Urban Development welcomed 130 young persons into the East Port of Spain
Development Company Limited's (EPOS') Education to Production Construction Skills
Training Programme. The launch and orientation of the programme, in partnership with the NESC
Technical Institute and the MIC Institute of Technology, was held at Government Campus Plaza,
Richmond Street, Port-of-Spain.
The Ministry of Housing and Urban Development (MHUD) through its agency EPOS continues
to be a catalyst of empowerment through its Education to Production Construction Skills Training
Programme.
Now in its fourth (4th) cycle, trainees in this cohort were selected from a pool of over 400 applicants
desirous of empowering themselves in hands-on training in carpentry, masonry, welding,
plumbing, electrical wiring, heavy equipment operations, air conditioning and refrigeration (AC),
and industrial maintenance technology for appliances (IMTA).
Speaking at the launch, Minister Robinson-Regis said: "Your Government recognises that personal
and professional development is as much a part of crime fighting as is increased policing." The
Honourable Minister highlighted the importance accorded to this initiative in the 2022/23 national
budget as EPOS received nine million dollars ($9,000,000) for its Social and Economic
Programmes, up from $439,000 in 2021/22. The additional funding allowed EPOS to introduce
two new fields (AC and IMTA) and increase the intake of trainees by 69 per cent. The training
opportunities are provided free of charge to residents of East Port of Spain, which is bounded by
Charlotte Street, Lady Young Road and the Eastern Main Road and includes Morvant, Never Dirty
and Caledonia, to improve the economic, social and physical environment of those areas.
Minister Robinsion-Regis challenged the trainees to "take advantage of this chance to learn as
much as you can, then utilise the learnings for your benefit, for the benefit of your families and
your community."
In delivering his remarks, Minister Leonce, MP for Laventille East/Morvant, encouraged
participants to believe in themselves, be confident, remain committed to the course of study and
become the positive change they want to see in their community.
Mr. Chinua Alleyne, Chairman of the Board of Directors of EPOS told the participants: "….all
your facilitators and tutors are here to work with you to achieve all the things you want to achieve."
He also thanked stakeholders, including the Inter-Agency Task Force, which, as part of its Hearts
and Minds programme, operates several Police Youth Clubs within the region of east Port-ofSpain. This programme hosts a number of sporting and social activities to hone the natural talents
of the young people of east Port of Spain and stave off a life of crime.
"At EPOS we implement a number of projects and programmes to effect physical and social
change in our communities … This programme equips you with the tools and skills to help effect
that change," EPOS Managing Director told the new trainees. She added "Your work with our
contractors helps make that change possible. High quality workmanship will ensure a high quality
living environment in east Port of Spain that you are all proud to be part of. By participating in
this programme, you are training to take on the role of agents of change in your communities."
MIC Institute of Technology was commended for creating opportunities for 3 graduates from
Cycle 3 to be employed in the areas of carpentry, masonry and electrical installation.
Also in attendance were: Permanent Secretary and Deputy Permanent Secretary of the Ministry;
Members of the Board of the EPOSDCL; Representatives of the NESC Technical Institute, the
MIC Institute of Technology and the Inter-Agency Task Force.
– END –