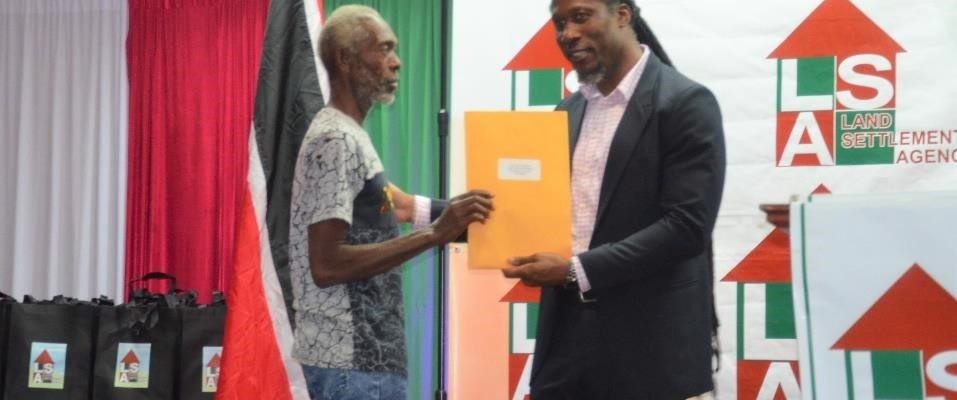 36 families receive keys to Starter Homes
Minister of Housing and Urban Development, the Honourable Camille RobinsonRegis on June 2, 2023 distributed keys to 36 families from east Trinidad for starter homes, during a ceremony at the Tunapuna Community Centre, Centenary Street, Tunapuna.  Under the Housing and Village Improvement Programme (HVIP), the Ministry of Housing and Urban Development, through the Land Settlement Agency (LSA), improves the living conditions of families in rural and peri-urban spaces who are willing to help defray costs to the taxpayer with labour and finishings.
Minister Robinson-Regis told the audience: "Moments like this key distribution motivate me to want to do even more to benefit our citizens.   It is truly phenomenal to see these starter homes replace sub-standard structures, and to know that families are getting homes that are structurally sound, safe and that can withstand natural disasters."
Minister in the Ministry of Housing and Urban Development, the Honourable Adrian Leonce, said:  "The continued success of this initiative is dependent on us forging inclusive relationships and strategic partnerships with all our stakeholders. As Ministers and Members of Parliament we are always seeking to respond effectively to citizens' socio-economic conditions, in order to improve their lives, create bright futures for our young people, and ensure our seniors can live out their lives with the utmost dignity.  That is our priority."
In delivering remarks, Wayne Inniss, Chairman of the Land Settlement Committee – LSA – said, 'We want the programme [HVIP] to have a holistic impact, therefore it is more than simply providing technical, financial and social support.  It is community oriented and goes further than improving the physical, human and social capital assets of communities. It is geared towards sustainability and building positive relationships, community comradeship and pride.'
The families were grateful and delighted to receive the keys to their new homes in various parts of east Trinidad including Arima, Bon Air, St. Joseph, St. Augustine, Wallerfield and Sangre Grande.
Since its 2017 launch, the HVIP won an award from the Inter-American Development Bank (IDB) on December 6, 2018, for its innovative aided self-help approach, as the Washington-based IDB acknowledged the significant difference the programme has been making in the lives of persons in need of affordable and adequate housing.  During the last six years, 459 families have been housed through the HVIP.  In addition to the 36 homes handed over on June 2, 84 more are under construction.  The LSA targeted commencement of construction of a total of 275 starter homes in various parts of the country this year.   Recognising the importance of this programme to improving the living conditions of families in rural and periurban spaces, in the national budget for fiscal year 2022/2023, the Government increased the budgetary allocation to the HVIP from $30M in 2021/2022 to $58M in 2022/2023.
To ensure that no qualifying family is left behind, Cabinet recently approved a threetiered cost structure, increasing the maximum subsidy applicable for the construction of a starter home from $145,000.00 to the following:  Tier 1- $165,000.00 for construction on flat lands;  Tier 2 -$170,000.00 for construction on undulating land and Tier 3 – $175,000 for construction on hilly lands.  This measure ensures that the Ministry, through the LSA, manages the rising cost of construction so that more homes can be built under the programme for more families to benefit.
Also attending the ceremony were the Hon. Marvin Gonzales, Minister of Public
Utilities and MP for Lopinot/Bon Air West;  Mrs. Shanmatee Singh Ng Sang, Deputy Permanent Secretary of the Ministry of Housing and Urban Development;  and Mr. Hazar Hosein, CEO of the LSA.