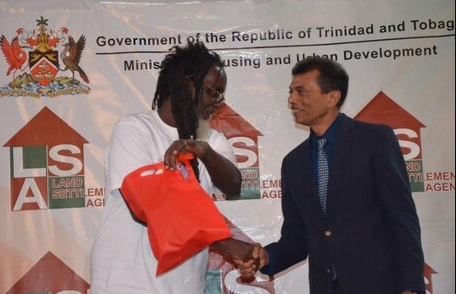 53 Families Receive Keys to New Homes under the Ministry's Housing and Village Improvement Programme
On November 09, 2022, the Ministry of Housing and Urban Development along with its Land Settlement Agency hosted a Key Distribution Ceremony at the San Fernando City Hall.
Fifty-three (53) families from various areas of South/Central Trinidad, including Pointe-a-Pierre, Tabaquite, Oropouche East, Moruga/Tableland, San Fernando East and West, Naparima and Princes Town, were able to receive the keys to their newly constructed starter homes, just in time for Christmas.
In October, an additional thirty-seven (37) units were handed over to recipients of the Programme, bringing the total to ninety (90) units, each constructed at a cost of $145,000.00 per unit. The LSA has a commitment to deliver another fifty (50) such units in the coming weeks and months. Since its inception in 2017, this IDB Awardwinning Programme has made a huge difference in the lives of the families who have benefited from it. Over the last five years, 332 families have reaped the rewards of this initiative in which the government has invested $7.7M.
In Minister Leonce's address, he indicated that, "the well-being of families is at the heart of what we do as Ministers and as Members of Parliament. It is also at the heart of what we do as a Government. We remain committed to enhancing the lives of those who are most in need of our intervention. If we all focus our energies on creating a more just and equitable society that works for everyone, that will redound to the benefit of the whole of society, and our country, Trinidad and Tobago, will be better off for it".
Also attending the distribution ceremony were His Worship, Alderman Junia Regrello, Mayor of San Fernando, the Honourable Faris Al Rawi, Minister of Rural Development and Local Government and Member of Parliament for San Fernando West, Mr. Wayne Inniss, Chairman of the Land Settlement Agency and Mr. Hazar Hosein, CEO, LSA.