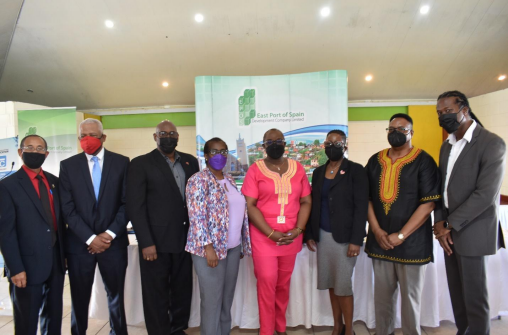 66 from East Port of Spain begin construction skills training
Sixty-Six youths from communities in East Port of Spain participated in an Orientation Session on April 27, 2022 to begin training in a series of disciplines related to the construction industry, as the East Port of Spain Development Company Limited's launched its third 'Education to Production – Construction Skills Training Programme' at the Laventille Community Complex.
Drawn from a pool of over 400 applicants, the youths will spend the next five (5) months receiving hands-on training in Carpentry, Masonry, Welding, Plumbing, Electrical Wiring, and Heavy Equipment operation. Speaking at the project launch, Housing and Urban Development Minister, the Honourable Camille Robinson-Regis told the gathering, "The essential thrust of these programmes goes beyond merely taking young people off the street corners, but more pointedly to increasing the pool of skilled artisans available to the various sectors, thereby increasing the potential of their contribution to the national economy".
She noted: "Today's launch is another example of the Government's thrust to ensure a whole of government approach to dealing with the challenges being faced by many of our nation's youth. Through the Ministry of Youth and National Services, all the Youth Camps and Apprenticeship Centres, both in Trinidad and Tobago, are being refurbished and reopened, catering for both residential and non-residential participants, and utilizing the same trade-school format being employed here in East Port of Spain. The Ministry of Trade and Industry, as well, recently launched its Apprenticeship in manufacturing initiative, targeting a different cohort of young people."
The Programme adopts a trade school format and will provide skills training in areas currently in high demand in the construction industry, thus enabling graduates to readily avail themselves of employment opportunities within the public and private sectors as well as engage in entrepreneurial activities for their personal and economic development.
The Honourable Adrian Leonce, Minister in the Ministry of Housing and Urban Development, and Member of Parliament for the Laventille East/Morvant Constituency urged participants to, "embrace this opportunity so that they can improve themselves and make East Port of Spain a better place for themselves, their families and their communities".
Minister Robinson-Regis also congratulated the East Port of Spain Development Company and thanked all those responsible for this great initiative, and the many tutors for giving of their time, talent and treasure to ensure the ultimate success of the programme. She thanked the participants, for saying yes to being part of the programme, noting that "this is the first step in breaking the chains of dependency that have limited your growth and development over the years, and for unclenching fists previously raised either in defiance or anger, and replacing them instead with the tools and equipment that will see the dawning of a new day for each of you".