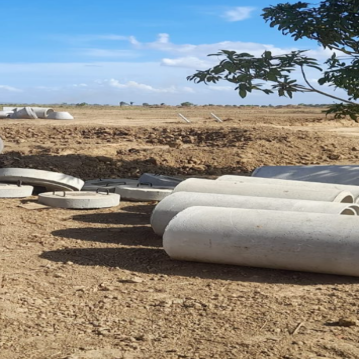 Development of Residential Lots for Former PETROTRIN Employees
April 19, 2023
MEDIA RELEASE
Development of residential lots for former PETROTRIN Employees
The Ministry of Housing and Urban Development through its Land Settlement Agency (LSA) has begun infrastructural works at Woodford Lodge, Chaguanas Main Road, Chaguanas for the development of approximately six hundred and thirty (630) residential lots to be allocated to former PETROTRIN employees.
Several sites were identified for the allocation of residential lots to the former employees.  At Woodford Lodge, the site has been sub-divided into five (5) areas for residential development purposes and contracts have already been awarded.  These development works will include the construction of drainage channels, detention ponds, treated roads with reinforced concrete culvert crossings and pipe culvert crossings. The works will also include water reticulation and sewerage networks.   The site will also include spaces for commercial, recreational and institutional use.
As part of its project scope, the LSA facilitated several site visits to assess the works being  undertaken.  A Public Consultation was held in February 2023 to apprise the community of the project as well as to address any concerns by members of the public.
Over the period February to March 2023, an increase in farming activities by agricultural squatters was noticed, including structures on the site earmarked for development works.
On March 28th, 2023, ten (10) Quit Notices were served on illegal agricultural squatters at Woodford Lodge and they were given one (1) week, until Tuesday April 4th, 2023, to vacate the land to allow contracted works to start at the site.  Undue delays in the commencement of this project can impact project costs and delivery dates.
Developmental works at the Woodford Lodge site will be undertaken over an 8 – 12 month period.  In the interim, applications from former PETROTRIN employees to this programme are being processed.  When the works have been completed and the lots ready for handover, persons who have been identified for allocation will be notified by the Ministry of Housing and Urban Development and the LSA.