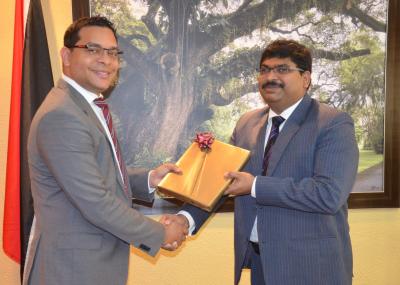 Honourable Randall Mitchell receives a Courtesy Call from India's High Commissioner to T&T
His Excellency Bishwadip Dey, India's High Commissioner to the Republic of Trinidad and Tobago paid a courtesy call on the Honourable Randall Mitchell, Minister of Housing and Urban Development, today at the Ministry's South Quay office.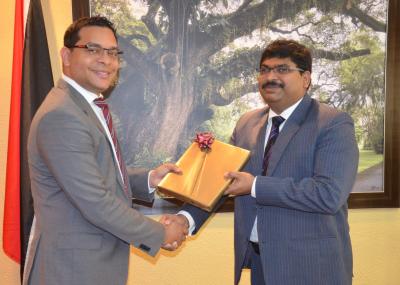 During this inaugural meeting, the High Commissioner and the Honourable Minister discussed areas of mutual concern as it pertains to housing and urbanisation. His Excellency also urged the Honourable Minister to take note of the many professional courses (approximately 200) and areas of technical cooperation from which professionals from the Ministry can benefit.
The housing policies of both countries are quite similar in that the Government of both countries agree that the state should be involved in the provision of quality affordable housing solutions for the low to middle income groups as well as the need to engage public private partnerships.
Mr. Raj Kamal, First Secretary, Indian High Commission and Ms. Simone Thorne-Mora, Permanent Secretary, Ministry of Housing and Urban Development were present for this meeting.