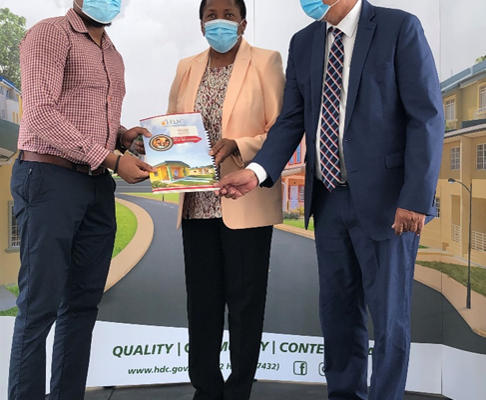 Housing Minister Pennelope Beckles Distributes Homes at Lexus Villas, Marabella – HDC's newest Housing Development
The Honourable Minister, accompanied by the Honourable Adrian Leonce, Minister in the Ministry and other officials of the Ministry and the Housing Development Corporation, was delighted to officiate and deliver the Feature Address at this Key Distribution Ceremony, held yesterday at Lexus Villas in Marabella, one of the newest developments constructed by the HDC under the government's Public Housing Programme.
Fifty-six (56) recipients received keys for mortgaged units and License to Occupy units in various developments located in east, south and central Trinidad, in addition to those being distributed at Marabella. Due to public health and safety considerations, only twenty-five recipients were present at the event to receive their keys while the other thirty-one (31) beneficiaries simultaneously collected their keys at the HDC's Port of Spain and San Fernando offices.
Minister Beckles in her address outlined the Government's policy and plans for the housing construction sector as well as raised concerns about scamming.  The Minister encouraged applicants to be patient and adhere to the guidelines of the allocation process.  She went on to note that the HDC continues to engage its clients with anti-scamming campaigns published in the traditional media as well as on social media platforms cautioning persons to do their due diligence and avoid being scammed by unscrupulous individuals whose only goal is to prey on other people's vulnerabilities.
She went on to say that, "The HDC nor any of its agents will ask you to meet them outside their offices to discuss your application, receive funds or request you transfer funds to their account or their friends' accounts or transact any other housing related business; nor will the HDC nor any of its agents conduct business with you on social media. Any transaction related to your housing application will only be done in the confines of the HDC offices; anyone doing otherwise should be reported to either the HDC or the Police so that together we can stamp out these kinds of illegal activities.
Minister Beckles was joined by the Honourable Adrian Leonce, Permanent Secretary Simon Thorne Mora, HDC Chairman Noel Garcia, Ag. Managing Director Brian Jackson and TTMF Chairman Mr. Robert Greene in the presentation of keys to the new homeowners.
After the Ceremony, the Minister was taken on a tour of one of the model homes at Lexus Villas, where public housing meets modern living.