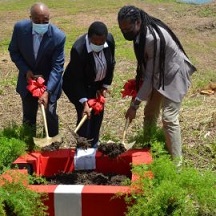 Housing Minister Pennelope Beckles turns the Sod for Phase I of the Government's Residential Lots Programme for former employees of PETROTRIN
On Friday 20 August, 2021 the Minister of Housing and Urban Development, the Honourable Pennelope Beckles, turned the sod for Phase I of the PETROTRIN Residential Lots Programme at the Glenroy II site, in Princes Town.
This Residential Lots Programme was launched in 2020 for former employees of PETROTRIN who were terminated in November, 2018, as a result of  the closure of the refinery, and the restructuring of the exploration and production activities.
The Programme provides serviceable lots of approximately 5,000 square feet for a lease period of 199 years, with all of the required infrastructure, lotification and statutory approvals free of charge to former, eligible ex-PETROTRIN employees, utlising the Ministry of Housing and Urban Development's Aided Self-Help Housing model.
The Land Settlement Agency, under the remit of the Ministry, will be responsible for developing the lots through the Public Sector Investment Programme (PSIP) and the Infrastructure Development Fund (IDF) while the Commissioner of State Lands will be responsible for issuing the lease titles for the land.
In keeping with the Ministry's Aided Self-Help Housing model, pre-approved house plans, technical assistance and oversight for the construction of the houses would be provided by the Land Settlement Agency, while subsidized loans can be accessed through the Trinidad and Tobago Mortgage Finance Company (TTMF) for eligible applicants requiring mortgage facilities for home construction.
Applications, which have been received from eligible,  former employees for the lots, have been entered into the Ministry's database, and will be selected when each of the nine (9) sites currently earmarked for the Programme is ready for distribution, utilising the Ministry's random selection draw process.
In her address, Minister Beckles said that, "the Government is committed to working in the best interests of all citizens, and as such is doing all it can to cushion the effects of the fallout incurred from the PETROTRIN closure, ever mindful that access to these residential lots can be a real game changer in improving the socio-economic prospects of these ex-employees."
She further stated that, "by enabling our citizens a pathway to property ownership, we are not just meeting a family's need for safe and secure shelter and the ability to earn a living through agricultural pursuits, but we are also providing a tangible opportunity that will change their lives forever."
Also, in attendance at this sod turning ceremony was Minister in the Ministry of Housing and Urban Development, the Honourable Adrian Leonce, Ms. Claire Davidson-Williams, Permanent Secretary and Ms. Nirmala Ramlogan, DPS of MHUD, Mr. Wayne Innis, Chairman of the LSA and Mr. Hazar Hosein, CEO of the LSA.