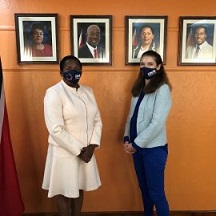 Housing Minister, the Honourable Pennelope Beckles receives a Courtesy Call from the High Commissioner for the United Kingdom
On Thursday 28 January, 2021 the United Kingdom's High Commissioner to the Republic of Trinidad and Tobago, Her Excellency Harriet Cross, paid a courtesy call on the Honourable Pennelope Beckles at her South Quay office in Port of Spain.
During this inaugural meeting, the High Commissioner and the Minister would have touched on a number of areas that are of mutual interest to their respective countries, including forging strategic partnerships, technical cooperation, particularly with respect to the integration of environmental best practices within the housing and urban development portfolios, advocacy for gender equality issues, and the strengthening of ties which both countries have enjoyed over the years.
High Commissioner Cross, who is an experienced career diplomat is keen on having a good working relationship with key Ministers to build on the work started by her predecessor.
The Honourable Pennelope Beckles indicated that the Government of Trinidad and Tobago has always enjoyed a very cordial relationship with the United Kingdom and is committed to strengthening mutually beneficial ties with that country. The Ministry of Housing and Urban Development is always open to discussions which will advance the Government's priority objectives and enhance the quality of life for our citizens.
In so doing, the Ministry of Housing and Urban Development is prepared to capitalize on all available opportunities that will assist our sustainable development thrust, through the provision of affordable shelter options for low to lower-middle income families and revitalization of our urban cities, peri-urban and rural communities.