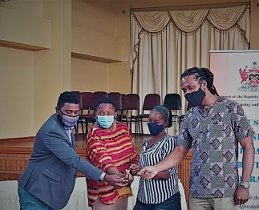 Housing Ministers Bring Hope and Christmas Cheer to Deserving Recipients of the Ministry's Housing and Village Improvement (HVI) Programme in South and East Trinidad
The Minister of Housing and Urban Development, the Honourable Pennelope Beckles and Minister in the Ministry of Housing and Urban Development, the Honourable Adrian Leonce presented keys to twenty-two (22) deserving recipients at a ceremony held yesterday (December 21) at the Bon Air Community Centre in Bon Air West, Arouca. This is in addition to the twenty-four (24) units distributed last week in San Fernando and Sangre Grande.
The Minister in her address told recipients that, "the HVI programme was developed by the Ministry in 2018 and is now in its fourth Phase of operations. Some of the communities that have been targeted through social surveys include, St. Joseph, Couva/Tabaquite/Talparo, Marabella, Moruga, Claxton Bay, San Fernando, La Brea, Cumuto, Tunapuna, Arima, Morvant and Sangre Grande".
Minister Beckles also commented that, "the Housing and Village Improvement Programme continues to provide suitable and affordable housing for deserving recipients in communities where poor-quality housing and infrastructure exists; it also creates employment opportunities for residents, particularly the young and unemployed persons within the communities, which makes a valuable contribution to the national economy". The Ministry, through the Land Settlement Agency, also engages the services of small contractors from within these communities or environs so that the budget and construction delivery times are kept within the guidelines of the programme's objectives".
The HVI Programme, utilizes an aided self-help approach and recipients are encouraged to provide sweat equity and the finishing touches to turn their units into homes.   Each unit is configured with an open floor concept which allows the homeowner to design their interior space to suit the needs of their families. The units are all outfitted with roofs, doors, windows and indoor bathroom facilities. Since its inception, two hundred and eighty-nine (289) families have benefitted from the Programme in addition to those who received the keys to their newly constructed homes this past week, while eighteen (18) families got their homes repaired. Currently, construction works have commenced on a further one hundred and twelve (112) units with Agreements having been signed to commence construction on an additional forty-seven (47) units. The LSA was also able to distribute seventy-three (73) roof repair grants in November, 2021.
The Ministers also distributed Certificates of Comfort in keeping with the mandate of the Land Settlement Agency to provide instruments of tenure for eligible citizens in occupation of state lands. Fourteen (14) CoCs were distributed last week in San Fernando and Sangre Grande. The presentation of the CoCs is the first step towards landownership for persons who would have registered to be regularized by Jan, 2000. The LSA has been able to generate as many as 8,351 CoCs to date.
In June, 2020 the LSA introduced the Tenancy Programme, which will capture persons after 2000 and before June 2014 to provide security of tenure for certain categories of squatters/occupants of state lands in designated areas cited in the State Land (Regularisation of Tenure) Act 25 of 1998, as well land settlement areas. Subsequently, just as with the CoCs, the Land Settlement Agency can then grant Statutory Leases for a term of thirty years and Deeds of Lease for a term of 199 years when the land will be fully owned by the occupant. Since 2017, the LSA has been able to generate 227 Statutory Leases, inclusive of 70 registerable Statutory Leases, and prepared 51 Deeds of Lease.
Minister Beckles said the Government is committed to providing home and land solutions to low to lower-middle income families so that no one gets left behind as we work towards the achievement of the country's national development goals by 2030.
Attending this morning's event were  the Honourable Pennelope Beckles, Minister of Housing and Urban Development and Member of Parliament for Arima, the Honourable Adrian Leonce, Minister in the Ministry of Housing and Urban Development and Member of Parliament for Laventille East/Morvant, the Honourable Marvin Gonzales, Minister of Public Utilities and Member of Parliament for Lopinot/ Bon Air West, Permanent Secretary of MHUD Ms. Claire Davidson-Williams and Mr. Hazar Hosein, Chief Executive Officer of the Land Settlement Agency among other dignitaries.