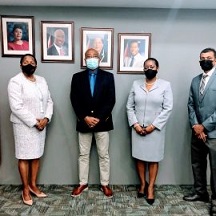 Minister Beckles presents the Chairman and Members of the Land Settlement Committee with their Letters of Appointment
Minister Beckles presided over a virtual installation ceremony on 30 June 2021 in which the Chairman and members of the Land Settlement Committee were inducted,
The Committee, which has been appointed to serve for the next two (2) years include the following members, Chairman Wayne  Inniss – Mr. Kenneth Deoraj, Ms. Marilyn Duncan, Mr. Yohanse Boiselle, Ms. Lizabeth Anne Hamilton, Ms. Rebecca Dipnarine,  Ms. Juliana Boodram, Ms. Gillian Pollidore and Ms. Marie Hinds. These Members bring a wealth of knowledge and experience to the Committee in the areas of law, planning, surveying, engineering, land management, community and social development and other related disciplines which will be pertinent to the business and conduct of the Committee.
The Land Settlement Committee has oversight of the operations of the Land Settlement Agency (LSA), which is governed by the State Lands (Regularisation of Tenure) Act  No 25 of 1998.  The mandate of the LSA is to "protect eligible squatters from being ejected off State Lands; to facilitate the acquisition of leasehold titles by both squatters and tenants in designated areas and, to provide for the establishment of land settlement areas."
The Honourable Minister, Pennelope Beckles in her remarks to the Committee indicated that she was looking forward to working with them to further the goals and objectives of the Land Settlement Agency, and by extension those of the Ministry of Housing and Urban Development in fulfilment of government policy. Also in attendance at the virtual meeting was Minister in the Ministry, the Honourable Adrian Leonce, Permanent Secretary Claire Davidson-Williams and LSA's Chief Executive Officer, Mr. Hazar Hosein.