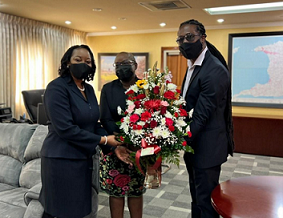 MINISTER CAMILLE ROBINSON-REGIS IS WARMLY WELCOMED AT THE MINISTRY OF HOUSING AND URBAN DEVELOPMENT
The Honourable Camille Robinson-Regis, recently appointed Minister of Housing and Urban Development (MHUD), received a warm welcome as she assumed her new portfolio at the Ministry's Head Office, South Quay, Port of Spain on March 21, 2022.
On hand to greet the Honourable Minister were the Honourable Adrian Leonce, Minister in the Ministry, Mrs. Claire Davidson-Williams, Permanent Secretary of the Ministry of Housing and Urban Development, Ms. Nirmala Ramlogan, Deputy Permanent Secretary, Managers and staff of the Ministry.
While touring her new Ministry, the Honourable Minister met with the various Heads of Departments and their staff and indicated that she was looking forward to working with them to achieve the Ministry's mandate in keeping with Government policy, Goal 3 of Theme 1 of the National Development Strategy (Vision 2030), which she spearheaded at the Ministry of Planning and Development, as well as the UN Sustainable Development Goals. It is indicative that we all do our part to ensure our cities and human settlements become inclusive, safe, resilient and sustainable communities for all our citizens, particularly the most vulnerable.
As Minister of Housing and Urban Development, the Honourable Robinson-Regis will oversee the Housing and Urban Development portfolios. In so doing, she will now be responsible for the Trinidad and Tobago Housing Development Corporation (HDC), the Land Settlement Agency, East Port of Spain Development Company Limited, New City Mall, East Side Plaza under the umbrella of the Port of Spain Shopping Complex, Sugar Industry Labour Welfare Committee, and the Trinidad and Tobago Mortgage Finance Company Limited.
The Executive and Staff of the Ministry of Housing and Urban Development and its agencies bid farewell to outgoing Minister, Pennelope Beckles and welcome the incoming Minister, Camille Robinson-Regis, and look forward to a great many things happening under her stewardship.