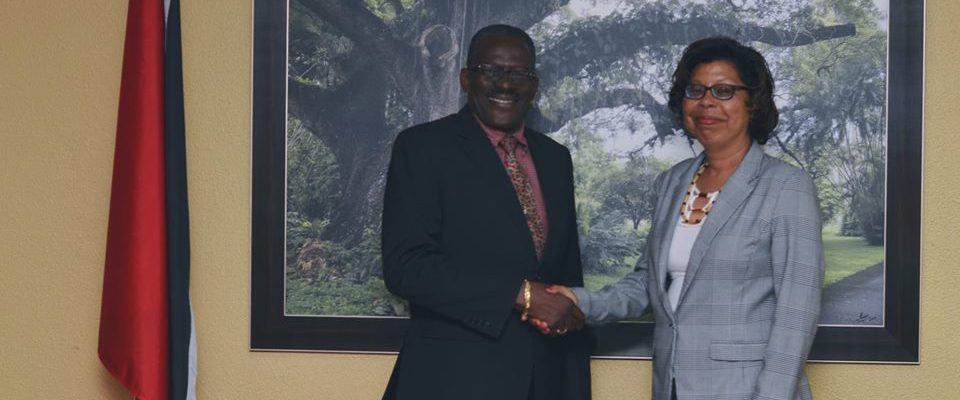 Minister Dillon Receives Warm Welcome from MHUD Employees
The Honourable Major General (Ret'd) Edmund Dillon, newly appointed Minister of Housing and Urban Development (MHUD), received a warm welcome as he assumed his new portfolio at the Ministry's Head Office, South Quay, Port of Spain on August 06, 2018.
On hand to greet the Honourable Minister were Mrs. Simone Thorne-Mora Quinones, officials and staff members of the Ministry.
While touring his new Ministry, the Honourable Minister greeted staff members and said he is looking forward to working with all.
In this portfolio as Minister of Housing and Urban Development, he oversees the Accelerated Housing Programme, land settlement, regularisation of tenure of squatters, Government's Aided Self-Help Housing Programme, Government's Home and Village Improvement, Housing Consumer Education and urban development policies and programmes.
The Honourable Minister also has responsibility for the Trinidad and Tobago Housing Development Corporation (HDC), Land Settlement Agency, East Port of Spain Development Company, New City Mall, East Side Plaza, Sugar Industry Labour Welfare Committee, Urban Development Corporation of Trinidad and Tobago (UDECOTT) and the Trinidad and Tobago Mortgage Finance Company Limited.
Once again, the MHUD extends warmest welcome to the Honourable Major General (Ret'd) Edmund Dillon, and looks forward to working with the new Minister.