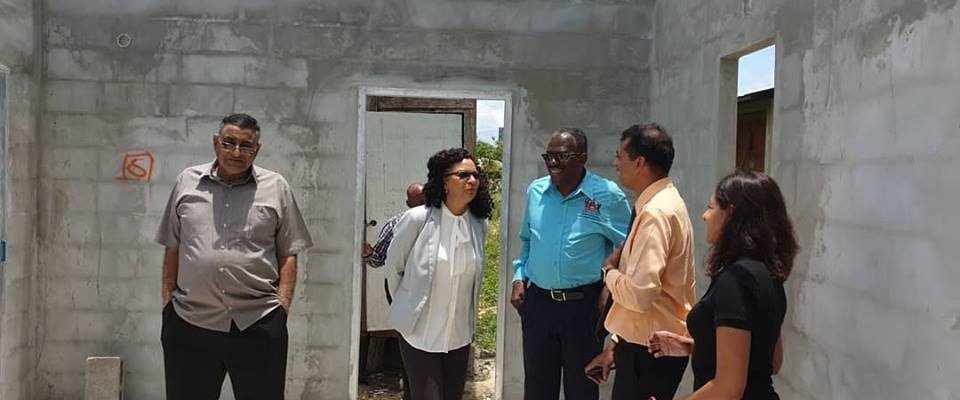 Minister Dillon Tours Housing and Village Improvement Projects in the East West Corridor
On April 12, Housing and Urban Development Minister the Hon. Major General (Ret'd) Edmund Dillon toured several sites along East Trinidad where works are currently underway to build housing units for several families under the Housing and Village Improvement Programme.
Minister Dillon was quite impressed with the progress of all the sites and applauded the effortsof the future home owners who are providing 'sweat equity' in the construction of their homes. He said, "this is a worthwhile project whereby the homeowners are not only getting a new home but they are also learning skills which can assist them in the future."
The tour included stops in Valencia, Sangre Grande and Rampalnagas to monitor  the works designed to assist residents of disadvantaged villages through the creation of an enabling environment in which the community residents can achieve sustainable development through the provision of housing and village improvement.
Also involved in the tour were Mrs. Glenda Jennings-Smith, Member of Parliament for Toco/Sangre Grande, Chairman of the Sangre Grande Regional Corporation Mr. Terry Rondon, CEO of the Land Settlement Agency Mr. Hazar Hosein as well as other officials from the Land Settlement Agency and the Ministry of Housing and Urban Development.
The Housing and Village Improvement Programme is an award winning and cost effective programme designed to improve the housing conditions and community facilities of residents in rural and peri-urban areas.