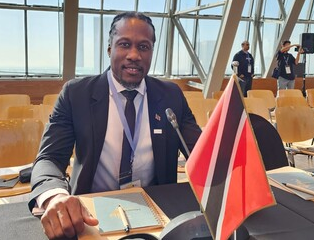 Minister Leonce participates in High-level discussions on a New Fund for Regional Financing for Sustainable Housing
On Monday 10th and Tuesday 11th April 11, 2023, the Honourable Adrian Leonce, Minister in the Ministry of Housing and Urban Development, represented Trinidad and Tobago at the Forum of Ministers and High-Level Authorities on Housing and Urban Development in Latin America and the Caribbean (known by its Spanish acronym MINURVI), in Buenos Aires, Argentina. The theme of this year's Ministerial Conference is 'Funding for Climate Change Mitigation in Urban Settlements'.
"The forum reviewed advances to address housing deficits, the challenges of climate change and the strengthening of sustainable construction and the housing value chain," Minister Leonce said, after his participation in discussions, inter alia, on a Fund for Regional Financing for Sustainable Housing. MINURVI also examined green and resilient housing in Latin America and the Caribbean. He further stated: "The forum explored the possibility of a fund for regional financing,
which would contribute to projects and programmes to positively impact climate change resilience and greenhouse gas reduction in Latin America and the Caribbean."
Minister Leonce said: "As a caring government that leaves no one behind, we must do all that we can to collaborate and learn from other countries' successes and failures." Such insights would assist in achieving one of the aims of the National Development Strategy 2016-2030/Vision 2030 to provide adequate and affordable housing for citizens and the global objective of sustainable development.
In addition to innovative construction practices, green infrastructure and building resilience to climate change, the forum also highlighted new initiatives and opportunities which clean energy and energy efficiency provide, while further stimulating the economy.
Several countries including Barbados, Colombia, the Dominican Republic, Uruguay, Belize, and Costa Rica also participated in MINURVI 2023.