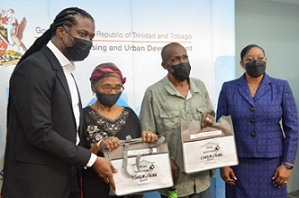 Minister Leonce presents Home Improvement Grants to Recipients at a Cheque Distribution Ceremony
The Honourable Adrian Leonce, Minister in the Ministry of Housing and Urban
Development, on Wednesday July 06, 2022, presented Cheques valued at $375,000.00 to Twenty-Five (25) recipients of the Ministry's Home Improvement Grant Programme (HIG), at a distribution ceremony held at the Ministry's Head Office in Port-of-Spain. The recipients of this grant allocation are from various communities along the east-west urban corridor.
The Home Improvement Grant Programme forms an integral part of the Ministry's Housing initiatives. The Housing Programme Facilitation and Implementation Unit of the Ministry, as administrator of the Home Improvement Grant Programme, has disbursed 125 cheques in the sum of $1.88M to citizens throughout the country. The Ministry will be hosting several other cheque distributions in the coming weeks.
Minister Leonce told recipients that, "when a home is in dire need of repairs or upgrades, the homeowner may feel anxious because they may not readily have the funds to do what needs to be done. Through these Home Improvement Grants, the Ministry is able to bring a measure of relief to homeowners, most of whom are pensioners, differently-abled or single parents. While the funding may not allow you to do all that you would like to do, it should provide you with some assistance to meet your most immediate home repair needs."
The Minister further stated that, "it is worth noting that this programme does not only positively impact the recipients, but also enjoys a trickle-down effect which drives economic activity within the community, either directly or indirectly, through the employment of skilled and semi-skilled labourers, purchase of hardware and other industry related goods and services, and entrepreneurial businesses including food vendors".
Permanent Secretary, Claire Davidson-Williams told the gathering that, "the aim of the Ministry is to make a tangible difference in the lives of the most vulnerable within society" and, "that is why we make every effort to ensure that we have the grant funding necessary to facilitate these kinds of distributions, in order to help you improve your living conditions and live safe and decent lives".
Also, in attendance were Manager of the Housing Programme Facilitation and
Implementation Unit, Mrs. Hermian Smart-Findlay; Manager of the Legal Unit, Mr. Alvin Pascall; Manager of the Economic Research and Planning Unit, Mr. Michael Byng, along with other officials from the Ministry.