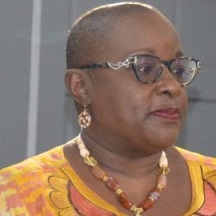 Minister Robinson-Regis commemorates Emancipation Day with Staff at the Ministry of Housing and Urban Development
On Thursday July 28, 2022 the Ministry of Housing and Urban Development, in collaboration with the Port-of-Spain Shopping Complex Limited – New City Mall and East Side Plaza, which is under the remit of the Ministry, hosted an event for staff to commemorate Emancipation Day, 2022 at the Ministry's Head Office in Port-of-Spain.
The Honourable Camille Robinson-Regis, Minister of Housing and Urban Development, who delivered brief but powerful Remarks to staff to mark the occasion said, "it is important to know our ancestry and our journey from slavery to Emancipation as that has shaped us into being the resilient people that we are". The Minister further stated, "we must also celebrate and take pride in the accomplishments of our African ancestors and persons of African descent because that has lent colour, vibrancy and dynamism to our national, cultural landscape".
The celebration kicked off with staffers being 'Called to Assemble' by lead drummer Jabbar (Pernell Tidd) as he made his way through the various offices, heralding the entrance of the Hon. Minister Robinson-Regis, Deputy Permanent Secretary (Ag.) Nirmala Ramlogan, Advisor to the Hon. Minister, Mrs. Walda Dottin-Matthew, and staff to the event venue.
Minister Robinson-Regis interacted with Queen Mary Ekwue of New City Mall and Deeleah Davis of East Side Plaza who provided head and body wrap demonstrations and expressive face painting designs for staff.
The Ministry's staff showed great enthusiasm and appreciation as they were adorned in various styles and colours of Africa, as well as having their faces painted with traditional African designs in celebration of Emancipation Day 2022.