Ministry of Housing and Urban Development distributes keys to 100 New Homeowners
100 Families receive Keys to their new HDC homes
Today, March 29, 2023, the Honourable Adrian Leonce, Minister in the Ministry of Housing and Urban Development joined senior executives of the Housing Development Corporation (HDC), including Chairman, Noel Garcia and Managing Director, Jayselle McFarlane, in delivering keys to 100 new beneficiaries of HDC housing units. This distribution ceremony was held on site at the HDC's housing development, Corinth B, San Fernando.
In delivering the feature address, Minister Leonce shared the elation of new beneficiaries as they received keys to their new homes. The Minister expressed his appreciation to the HDC as well as to the contractors for delivering high quality housing units. He reminded beneficiaries that they are getting value for money, as the State provides 'considerable input in terms of the cost of the land, infrastructure, construction and subsidised mortgage rates.'
Minister Leonce further stated 'adequate and affordable housing provides not only economic security, but also boosts one's physical and mental wellbeing, which in turn, improves a person's ability to contribute to nation building. With this in mind, your government remains committed to taking responsible actions to increase home ownership in Trinidad and Tobago'.
Today's beneficiaries were allocated housing units in several of HDC's housing developments throughout the country.
Based on the sale of these 100 housing units, the HDC stands to collect over forty-eight million dollars ($48 Million) in revenue. These funds will be reinvested into the HDC's programme to provide additional housing units which would thereby benefit more families. Minister Leonce reminded all HDC homeowners of their responsibility to honour their financial commitments and to pay their mortgages/rents as they become due.
Various avenues exist through which clients can honour their financial obligations to the HDC, in addition to the traditional forms of payment, stated Managing Director McFarlane. She also referred to the recently introduced 'More Ways to Pay' campaign and the aims to make the HDC a cashless organisation, offering clients more accessibility, convenience, simplicity and reliability, through user-friendly payment options.
Also in attendance at the ceremony, were Alderman Dr. Ferri Hosein Deputy Mayor, City of San Fernando, Chairpersons and Members of the Board of the Subsidiary Companies of the HDC, senior staff of the Ministry of Housing and Urban Development and the HDC. Entertaining but very relevant segments included a Social Skit by HDC staff and a live performance from Darryl 'Farmer Nappy' Henry.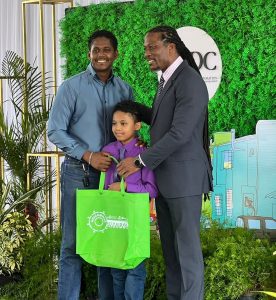 The Hon. Adrian Leonce, Minister in the Ministry of Housing and Urban Development presents keys to a new homeowner and his son.