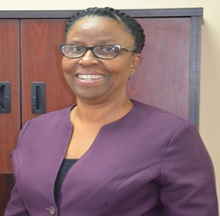 Ms. Marion Hayes
Ms. Marion Hayes entered the Public Service on April 24, 1978, as a Clerk I at the then Ministry of Education and Culture and worked her way up to the position of Director, Human Resource Services at the Ministry of Public Utilities; a position she held prior to being appointed Deputy Permanent Secretary (ag.) at the Ministry of Housing and Urban Development.
Throughout her long and distinguished career in the public sector, she has been exposed to many functional areas such as accounts, registry, office management and human resource management at various Ministries and Divisions namely, the Office of the Prime Minister, Personnel Department, Central Tenders Board, Office of the Ombudsman and the Ministry of Public Utilities.
Ms. Hayes is the holder of a Certificate in Human Resource Management as well as a Bachelor of Science Degree in Management Studies (major) and Human Resource Management and Psychology (minors). She has also completed short courses in several areas including Emotional Intelligence, Critical Thinking, Conflict Management and Mediation.
Deputy Permanent Secretary Ms. Marion Hayes assumed duties at the Ministry of Housing and Urban Development on June 01, 2016. Her vast experience is certainly an asset to this Ministry.