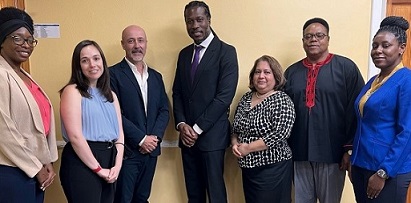 The Hon. Adrian Leonce, Minister in the Ministry meets with The United Nations High Commissioner for Refugees – UNHCR
On Tuesday August 09, 2022 the Honourable Adrian Leonce, Minister in the Ministry of Housing and Urban Development, met with Mr. Roi Chiti, the UN-Habitat HUB Coordinator for Andean Countries, Ms. Ana Karina Bernal Iaiguez, the Programme Analyst and Akilah Edwards-Rose, the UN-Habitat Trinidad and Tobago Focal Point Consultant as part of the UN-Habitat's Andean HUB Coordinator's visit to Trinidad and Tobago.
The Minster and the UN delegation held fruitful discussions on the continuation and updates of the implementation of the Inclusive Cities, Communities of Solidarity project, and moreover how the UNHCR the International Organization for Migration (IOM) and the United Nations Human Settlements Programme – UN-Habitat and the European Union EU Delegation partners can build on the foundation already set and ensure that the collaborative alliances are strengthened.
Also in attendance at the meeting was Ms. Nirmala Ramlogan, Deputy Permanent Secretary (Ag.), Dr. Jeffery Reyes, Programme Director, Programme Monitoring Coordinating and Evaluation Unit (PMCEU) of the Ministry and Ms. Latoya Crosby, Monitoring and Evaluation Specialist, PMCEU of the Ministry.