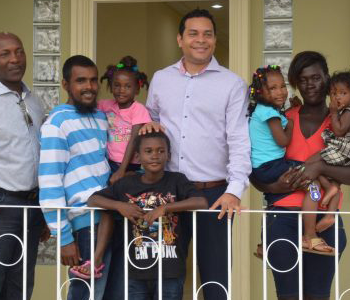 Mitchell: Help for family to cope in new home
Housing Minister Randall Mitchell has responded to an appeal for guidance by the poverty-stricken family presented with a Christmas gift of a Housing Development Corporation (HDC) housing unit in Freeport on Christmas Eve.
Vendors Neesha Wattley, 26, her husband, Chris Rambhal, 28, and their four children, who were living in a makeshift shack on a riverbank in Chaguanas, were expected to move into their new home in Eden Gardens, Freeport, for Christmas.
Wattley however lamented on TV6 News on Wednesday night that it was impossible to take her children to school as public transportation was not accessible in the community. And she threatened to return to her one-room shack if the authorities failed to respond.
Wattley said she was not ungrateful for the new home, but needed guidance on how to live in the community.
Mitchell noted HDC did consider the challenges the family would face with the move. However, he said no units were available near Chaguanas where the couple's children were attending school.
Mitchell said a decision was made to deliver a home to the family who was "dirt poor". He said the couple and their four young children lived in a one-room shack with an earthen floor on a riverbank.
"We must understand that the first problem was severe poverty. The Ministry of Housing made an intervention into this family's living conditions. We provided safe and af­for­- dable housing to improve the stan­- dard of living. We knew at that time that there would be challenges as their main problem was poverty," he said.
Social workers to step in
He said a decision was taken to have HDC social workers remain in contact with the family until they were settled into their new home as they would be faced with more challenges.
"They were taken out of those circumstances and placed into new circumstances. We knew they would encounter more challenges. The family would now have to be educated and given guidance on how to live in the new community. The mother would have to be taught how to use appliances, how to read an electricity bill, how to budget for her family. And that was what we intended to do," he said.
Mitchell said the social workers would sit with the family and help to work out their challenges, inclu­ding how to get their children to and from school.
He said a social worker from the Ministry of Social Development would also be assigned to the case.
"What I saw on television last night was someone who is now en­countering some challenges as a con­sequence of moving from that makeshift house on the riverbank to Eden Gardens, Freeport. She is now faced with these challenges and that is the reaction.
"We have empathy with the family and would continue with our intervention effort to transition and fully integrate the family into the new circumstances to turn around their lives and thrive," he said.
Mitchell said HDC would continue to reach out to the family and assist. However, should Wattley decide to return to her home on the riverbank, he said there was a provision in the contractual agreement for early termination.
At the key-distribution ceremony, Unicomer Courts presented the family with a voucher of credit to furnish the house, and DirecTV gave them a television.
A corporate citizen has also offered to pay the family's rent for three years.